Moving and handling really matters
HSE SITE INSPECTIONS
HSE inspectors will visit construction sites across England, Scotland and Wales in October and November to check that workers' health is being protected from the risks associated with moving and handling materials. They will look for evidence of employers and workers: 
Knowing the risks

 

Planning their work

 

Using sensible control measures

 
YOUR LEGAL DUTIES ARE THE SAME ON A SMALL OR LARGE BUILDING SITE
As an employer, you must protect your workers and others affected by their work activity from getting hurt or ill through work.
If you don't, you could get verbal or written advice, an improvement or prohibition notice, or be prosecuted by HSE or your local authority.
THE LAW: WHAT YOU NEED TO KNOW
The Manual Handling Operations Regulations 1992 set out a clear hierarchy of measures for dealing with risk likely to cause harm from manual handling. These are:
Avoid hazardous manual handling operations so far as reasonably practicable.
Assess any manual handling operations that cannot be avoided.
Reduce the risk of injury to as low as reasonably practicable.
HOW TO PREVENT OR ADEQUATELY CONTROL THE RISKS FROM MOVING AND HANDLING MATERIALS 
Construction work, by its very nature, involves lifting, carrying and handling activities that can cause serious, often long-term injuries if the risks are not managed effectively.
Construction workers have a high risk of developing aches, pains and discomfort in muscles and joints, referred to as musculoskeletal disorders (MSDs).
These injuries can have a serious impact on the person suffering, on their performance and their ability to stay in work.
Working days lost through MSDs have huge financial implications for businesses, as well as time spent to recruit and train new workers if needed.
These injuries can often be reoccurring, so it's important to get the control measures right to protect workers' long-term health and happiness.
FREE RESOURCES TO PROTECT YOUR WORKERS
These are the essential health and safety guides you should follow, even if you don't directly employ the people working on your site.
Manual handling – what you need to know as a busy builder
This provides essential health and safety top tips.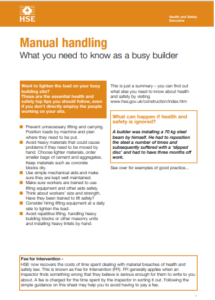 Download manual handling - What you need to know as a busy builder
Manual handling – A brief guide
This explains the problems associated with manual handling and includes guidance on how to deal with them. It gives useful practical advice on reducing the risk of injury from manual handling and will help employers carry out their duties under the Manual Handling Operations Regulations 1992.

Download a brief guide to manual handling at work
Manual Handling Assessment Charts (MAC)
This is a tool to help you identify high-risk workplace manual handling activities. Learn more about the tool and how it can support your business in assessing the risks to workers of moving and handling materials.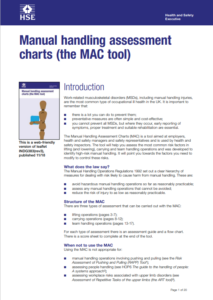 Download free manual handling assessment charts
For more info:
Visit HSE for information and animated video regarding the MSD assessment tool which combines three assessment guides (MAC, ART and RAPP) in one digital solution.
WHAT YOU SHOULD KNOW
There are different types of materials used in construction and each material and task should be assessed for risks of injury. Some common construction tasks can present significant risks of developing musculoskeletal disorders (MSDs) including kerbs and paving, bricks, blocks and beams.
MSD injuries from handling heavy materials do not usually occur because of a 'one-off' lift. The injuries usually arise from ongoing repetition of the work and posture during the lifting. These factors can create excessive stresses and strains on the body, which can cause damage to muscles and tendons – particularly to the back. This risk of significant longer-term problems makes it very important to adopt the correct control measures.
BLOCKS AND BRICKS
Blocks and other masonry units are common construction products. Regularly handling heavy units can present significant risks of developing musculoskeletal problems.
Assess: Lifting and handling blocks is a highly repetitive task and can involve lifting, twisting and lowering. The risk of injury increases with the weight of the block and when laying above shoulder / below knee height.
Prevent: Thinking about limiting the risks should be considered at the design stage and before work starts by selecting the lightest product to meet the performance criteria for the design. For example, a cladding system, cluster laying or poured concrete foundations instead of block laying. Also selecting the lightest block that meets the performance criteria for the design.
Control: Even if you minimise some of the risks this way, you are still likely to have to lay blocks. Control the risk by setting out to avoid handling the blocks as much as you can. Get them delivered as close as possible to the point of use. Set blocks down on level ground where possible and use handling equipment such as rough terrain pallet trucks where appropriate if you need to move blocks around the site. Arrange the work area to avoid over-reaching or twisting. Control the laying height and set working platforms so that block laying can take place between chest and knee height.
Review: Check site working practices to ensure that the correct controls are being used.
KERBS AND PAVING
Kerbs and paving material are common construction products that can be very heavy, as such, regularly lifting, carrying or handling them can present significant risks of injury.
Prevent: Think about limiting the risks before work starts by avoiding the need for heavy products altogether. For example, lightweight kerbs constructed of alternative materials, smaller paving slabs, or block paving. Where heavy products cannot be avoided, use fully mechanised positioning and laying systems. For example vacuum devices or mechanical grabs.
Control: Even if you minimise some of the risk this way, you may still do other work that cannot be fully mechanised. Control the risk by partial mechanisation for as much as possible, for example, getting the paving near its final position.
Review: Check site working practices to ensure that handling aids are being used correctly and procedures are being followed. It is also important to maintain equipment.
HEALTH & SAFETY IN THE CONSTRUCTION INDUSTRY