CONTROL EXPOSURE TO PROTECT WORKERS' HEALTH
Respirable crystalline silica (RCS) in foundries includes workers work with dusts produced by casting sand, fettlings and kiln linings, which contain silica and, when dry, produce silica dust. When these materials are worked, dust is created which may be fine enough to be breathed deep into the lungs and cause devastating lung disease including silicosis, chronic obstructive pulmonary disease (COPD) and lung cancer. These lung diseases ruin not only the lives of those that are suffering, but also their friends and families lives. Although irreversible, these diseases are preventable.
In addition, exposures to ferrous foundry fume can cause lung cancer; fume from pattern assembly and spray mists can cause asthma.
WHAT EMPLOYERS NEED TO KNOW
Exposure to RCS is subject to the Control of Substances Hazardous to Health Regulations 2002 (COSHH). As an employer, you are legally responsible for taking effective measures to control exposure and protect workers' health. These measures can also improve production or cut waste.
DON'T GAMBLE WITH YOUR WORKERS FUTURE HEALTH AND HAPPINESS BY TAKING RISKS TODAY
There is a legal requirement under the Control of Substances Hazardous to Health Regulations (COSHH) for employers to assess and control the risks from exposure. It is important to keep dust and fumes exposure to a minimum. Ensure control measures are in good working order. This means:
mechanical (e.g. extraction, respirators)
administrative (e.g. supervision, health surveillance)
operator (following instructions). Show that control is being sustained – keep good records and carry out health monitoring regularly.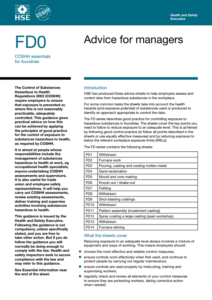 Download: Silica advice for foundry managers
TASK SPECIFIC ADVICE
Foundry task specific advice can be found on the COSHH sheets here: Foundry – COSHH e-tool (hse.gov.uk).
This includes advice on general ventilation, molten metal fume (melting, pouring and casting), sand plant, core making and shell moulding, fettling castings, spray coating castings and cleaning dust collectors
HEALTH SURVEILLANCE
Health surveillance for silicosis should be considered for workers who are involved in high-risk occupations, including casting, fettling and sand reclamation.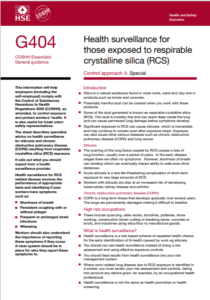 Download: Health surveillance for those exposed to respirable crystalline silica (RCS)